Carys Bray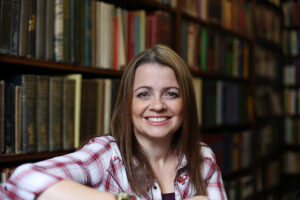 Carys Bray's debut short story collection Sweet Home won the Scott Prize in 2012. Her debut novel A Song for Issy Bradley will be published by Hutchinson in June 2014. Carys teaches at Edge Hill University where she is completing a Creative Writing PhD. She lives in Southport with her husband and four children.
Carys's Recommended Books:
Hey Yeah Right Get A Life, Helen Simpson

I recommend Helen Simpson's illuminating short stories. She captures so many unsaid and unsayable truths about parenthood in Hey Yeah Right Get A Life. I love the way short stories can explore ideas and territory that wouldn't be sustainable in novel length manuscripts.

The Stone Thrower, Adam Marek

I particularly like the strange and beautiful worlds of Adam Marek and Robert Shearman in The Stone Thrower and Tiny Deaths respectively.

Heft , Liz Moore

I enjoyed Heft by Liz Moore and The Night Rainbow by Claire King – both writers withhold information, encouraging the reader to work things out. I like books that make me laugh and books that make me cry: Charlotte Mendelson's Almost English is a gorgeous, comic novel, while James Scott's The Kept is bleakly beautiful.

The Stone Diaries, Carol Shields

When it comes to rereading, I think I'll always enjoy revisiting the opening chapters of The Stone Diaries. It's the book that helped me realise it was okay to write about ordinary things and ordinary people. I also intend to revisit Nathan Filer's The Shock of the Fall, a novel that had my full attention from the opening sentence.