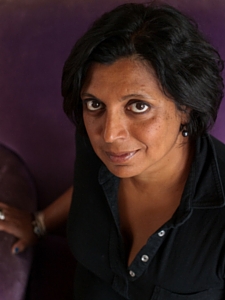 Roshi Fernando was born and brought up in London. She studied for her first degree at the University of Warwick, and holds a PhD in Creative Writing at the University of Wales, Swansea.
In 2009 she was awarded the Impress Prize for New Writers, for her composite novel, Homesick, which comprises a series of interlinked short stories about a community of Sri Lankan immigrants in London. Homesick was published in autumn 2010 by Impress books, and has been republished by Bloomsbury (UK and Commonwealth) and Knopf (USA) in 2012.
Her story Three Cuts is published in the anthology Sing Sorrow Sorrow published by Seren in October 2010. Roshi has also been given a special commendation by the judges of the Manchester Fiction Prize, and has been longlisted for the Bridport Prize 2009. In 2011 her story The Fluorescent Jacket was shortlisted for the EFG Sunday Times short story prize.
Found on the web at: roshifernando.com
Found on Twitter @rofernando